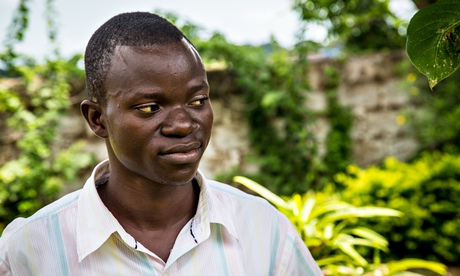 Ebola survivor Douda Fullah in Freetown, Sierra Leone. Photograph: Michael Duff for the Observer
The 17-year-old overcame the deadly virus and launched a media appeal. But far from being treated as a hero, he has become a pariah.
You can survive Ebola, but you never win. If you recover from the disease, the chances are that you will have lost almost everything else.
Survivor Douda Fullah watched five members of his family die in an Ebola ward. First, his lab technician father, followed by his stepmother, his grandmother, two-year-old brother and 13-year-old sister. His grief and immediate need for food and money has already been captured in a video appeal seen on British and American TV news.
But during a meeting in Freetown it is clear that, in Douda's case, Ebola has a double legacy: unimaginable grief and the burden of taking his father's place not just in the family but in the community. "I'm having up to 15 people depending on me … it's really, really hard," he said. "I have younger sisters and brothers and cousins living in the same house. My father especially used to care for them … and even for my uncles in the village, my grandfather, he used to care for them. Now that he is no more, everybody is looking to me."
The harsh irony of being an Ebola survivor is that, instead of being treated as a victim who needs support at the time of familial devastation, he has been shunned by neighbours and parents' friends who believe that he still carries the virus.
"Friends of mum and dad, I don't remember any of them coming to my house since Ebola," he said.