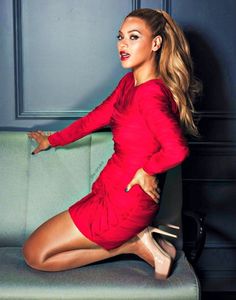 The star is up for the main prize, album of the year, for her ambitious visual album, Lemonade, which tackles themes of race and female identity.
Her single Formation is also up for song and record of the year.
In all three categories, she is up against Adele - who previously won the ceremony's top three prizes in 2012.
Beyonce now has 62 Grammy nominations across her work as a solo artist and as part of Destiny's Child, making her the fourth most-nominated artist ever.
She has won 20 trophies altogether, although she has yet to clinch the album of the year prize, having been beaten to the title by Beck in 2015 - much to the disgust of Kanye West, who stormed the stage in protest.
West receives eight nominations this year for his album The Life Of Pablo - all in the rap categories.
Drake and Rihanna also have eight nominations, including three for their hit collaboration, Work.
Her hard work and dedication to her craft paid off when she was nominated for the Excellence in Music and Entertainment Award for Best New Artist (Female).
In a male dominated industry, Keida is not intimidated at the challenge of setting herself apart. "I try not to segregate gender when it comes to music. It's not impossible, as a female to be just as good as a male at anything, but depends on your talent and what you bring to the table. I think we as females just have to go twice as hard." Keida has her sights set on distinguishing herself as a talented artist and not just another talented female artist. "My ultimate goal is to maintain a fresh new strain of music and build a foundation that will encourage growth, but at the same time remains current for years to come.
KEIDA - GANJA TEA (OFFICIAL VIDEO)