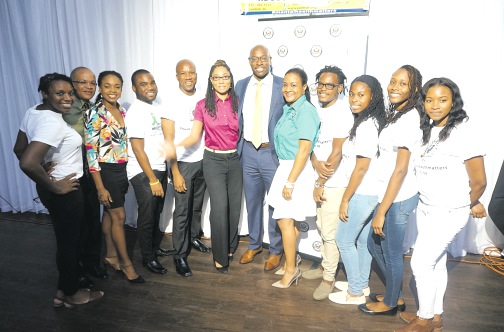 Following a compelling, informative address, spoken word artist, public speaker and mental health advocate Hakeem Rahim (sixth right) and event moderator Dr Michael Abrahams (second left) join members of the Jamaica Mental Health Advocacy Network team for a celebratory picture. (Photo: Cesar Buelto)
Following a public forum and media launch last week, the Jamaica Mental Health Advocacy Network (JaMHAN) has debuted its online referral network and is now set to launch a series of thought-provoking advertisements.
Reflecting this year's global theme of 'Psychological First Aid', the initiative is executed via a social media video campaign starring last year's Festival Queen and eMotion Jamaica founder/advocate, Chereese Ricketts, sharing her struggles with depression and anxiety.
There is also a series of radio advertisements in collaboration with Kool 97 FM aimed at enlightening listeners about telltale signs of mental illness to better equip them with the supportive skills needed. With the common thread
#mentalhealthmatters
, the radio ads feature a series of hypothetical situations and fact-checking, with each one highlighting different possible symptoms. They also urge the public to either suggest professional help or encourage afflicted individuals to try a number of simple, effective activities like taking a walk or getting 30 minutes of sunshine each day.
A news release from JaMHAN said its education drive emphasises the importance of understanding and recognising problem areas in peers, thus allowing anyone to become a "mental health first responder" and, in so doing, aid in the eventual removal of the associated stigma. Alternatively, its online referral network will provide an easy, accessible and confidential avenue for people with mental health challenges to connect with a practitioner or service best suited to their needs and budget.
The network, with the aid of its primary event sponsor, the Embassy of the United States of America, presented a public forum and official launch for the campaign, enlisting the help of noted author, spoken word artist and certified speaker Hakeem Rahim — founder of American mental health advocacy and educational consulting company Live Breathe LLC — who was elated to be part of the initiative.
Aptly staged on World Mental Health Day, it was the organisation's primary activity to commemorate the globally recognised awareness week, which simultaneously functioned as encouragement for mental health practitioners to join the referral network. JaMHAN continued the week with a hard-hitting
#mentalhealthmatters
Twitter chat in association with eMotion Jamaica on Wednesday and culminated in a Mental Wellness Through The Arts yoga and dance workshop at The Students' Union, University of the West Indies Mona campus.
For more details on the campaign, resources or referral to mental health providers, visit jamhanblog.wordpress.com or facebook.com/jamentalhealth.