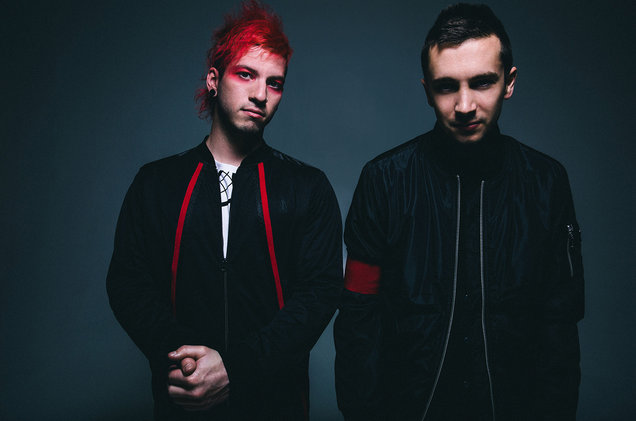 — Twenty One Pilots, Blurryface – No. 3 — Twenty One Pilots celebrates its first million-selling album in the U.S., as Blurryface crosses the million sales mark. The album sold another 13,000 copies in the week ending July 21, according to Nielsen Music, bringing its total sales to 1.005 million. Sixty-two weeks ago, the album debuted at No. 1 on the Billboard 200 chart, and the set has never left the top 40.
On the latest chart, the set rises 4-3 with 36,000 units earned (up less than 1 percent), notching the album's highest rank since the Jan. 23-dated list, when it also placed at No. 3.
Here are the sales of the act's previous full-length albums: Vessel (released in 2013; 569,000 sold), Regional at Best (2011; 3,000 — the album has been out of print since 2012) and its self-titled debut effort (2009; 115,000).
— Soundtrack, Ghostbusters – No. 18 — The soundtrack to the Ghostbusters redux debuts at No. 18 on the Billboard 200 with 19,000 equivalent album units earned in the week ending July 21, according to Nielsen Music. Of the album's total units for the week, 10,000 were in traditional album sales, while a sturdy 8,000 units were generated by track equivalent albums -- thanks to the solid sales of its cuts like 5 Seconds of Summer's new "Girls Talk Boys" (46,000 downloads sold).
The new Ghostbusters album is the third Ghostbusters soundtrack to reach the top 20, following the first film's companion set (No. 6 peak in 1984) and Ghostbusters II (No. 14 in 1989).
Notably, the new Ghostbusters album is just the fourth soundtrack to reach the top 20 in 2016, following Star Wars: The Force Awakens, Prince and the Revolution's Purple Rain and TV soundtrack The Passion: New Orleans.
With the new Ghostbusters' 10,000 sold, the collection also enters at No. 1 on the Soundtracks chart, where the original Ghostbusters soundtrack spirits its way up the chart, rising 18-10.