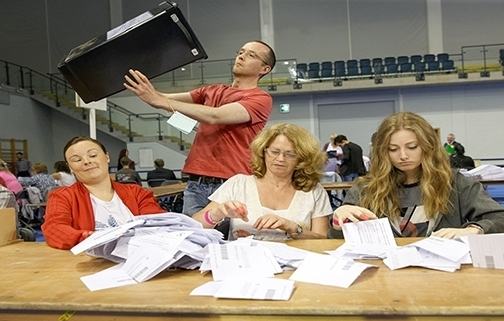 London, United Kingdom (AFP) - Britain has voted to break out of the European Union, striking a thunderous blow against the bloc and spreading panic through world markets Friday as sterling collapsed to a 31-year low.
Investors scrambled to sell the pound, oil and stocks as Britain took a lurch into the unknown, becoming the first country to quit in the EU's 60-year history, a culmination of decades of suspicion over European aims of creating an ever-closer political union.
Voters decided 52 percent to 48 percent in favour of quitting the bloc with 374 out of 382 regional results declared. 
With 16.8 million votes for "Leave" and 15.7 million for "Remain", it is now mathematically impossible for "Remain" to win, the BBC reported."Let June 23 go down in our history as our independence day," said top anti-EU campaigner Nigel Farage, leader of the UK Independence Party, who had promised Britons the chance to retake power from Brussels and rein in high immigration.
"If the predictions now are right, this will be a victory for real people, a victory for ordinary people, a victory for decent people," he told supporters. 
A joyous crowd chanted back to him: "Out! Out! Out!" 
At the rival "Remain" party in London, subdued supporters stood glued to TV screens clutching beers -- some with their hands over their mouths.
Sterling plunged more than nine percent to $1.33, a 31-year low. World oil prices skidded by more than six percent and Asian stocks sank.
Britons appeared to have to shrugged off dire warnings that quitting the 28-nation alliance would create a budget hole requiring spending cuts and tax increases once they lose unfettered trade access to the EU. 
"The eurosceptic genie is out of the bottle and it will now not be put back," Farage said.
Dutch far-right MP Geert Wilders and French National Front leader Marine Le Pen immediately called for a referendums on EU membership in their own countries.
The result means the world's fifth-largest economy must now go it alone in the global economy, launching lengthy exit negotiations with the bloc and brokering new deals with all the countries it now trades with under the EU's umbrella.
European Commission chief Jean-Claude Juncker has warned the EU will "not be bending over backwards" to help Britain in those negotiations. Analysts say it could take the island nation a decade to secure new trade accords worldwide.