Anton Yelchin, who was best known for playing Chekov in the new Star Trek films, has been killed by his own car at his home in Los Angeles, police say.
It struck him after rolling backwards down the steep drive at his Studio City home, pinning him against a brick postbox pillar and a security fence.
He died shortly after 01:00 (08:00 GMT) on Sunday.
JJ Abrams, who directed Yelchin in the first two Star Trek films, paid tribute on Twitter saying he was "brilliant".
"You were kind. You were funny as hell, and supremely talented. And you weren't here nearly long enough. Missing you," he wrote.
Yelchin played Pavel Chekov, the role originally made famous by Walter Koenig, in the rebooted Star Trek films released in 2009 and 2013.
He reprised the role in a third film, Star Trek Beyond, which is due for release next month.
Justin Lin, who directed Star Trek Beyond, said: "Still in shock. Rest in peace, Anton. Your passion and enthusiasm will live on with everyone that had the pleasure of knowing you."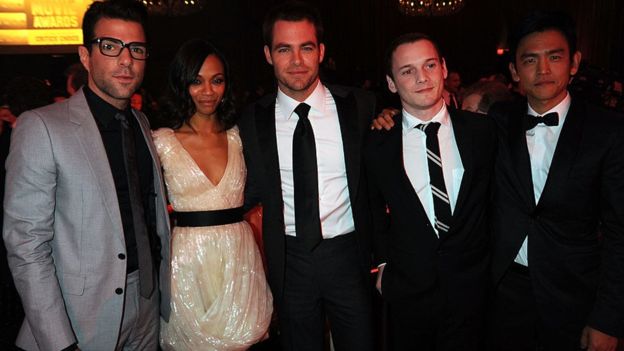 Zachary Quinto, who plays Spock in the franchise, wrote on Instagram: "Our dear friend. Our comrade. Our Anton.
"One of the most open and intellectually curious people I have ever had the pleasure to know. So enormously talented and generous of heart. Wise beyond his years. And gone before his time. All love and strength to his family at this impossible time of grief."
Fellow Star Trek actor John Cho, who plays Sulu, tweeted: "I loved Anton Yelchin so much. He was a true artist - curious, beautiful, courageous. He was a great pal and a great son. I'm in ruins."
Original Star Trek actor William Shatner also tweeted: "Sad news for such a talented young man."
The official Star Trek Twitter account marked his death with a simple, sombre image.