The U.N.'s refugee agency reports that the number of displaced people is at its highest ever -- surpassing even post-World War II numbers, when the world was struggling to come to terms with the most devastating event in history.
The total at the end of 2015 reached 65.3 million -- or one out of every 113 people on Earth, according to the United Nations High Commissioner for Refugees (UNHCR). The number represents a 5.8 million increase on the year before.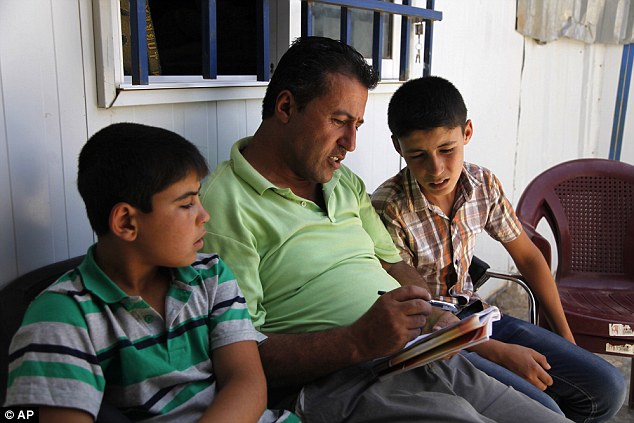 Salam Ashara, center, reads his poems about pre-war Syria to his two sons Saeb, left, and Ayman in the Zaatari refugee camp
A little under 1% of the earth's population is either "an asylum-seeker, internally displaced or a refugee" according to the UNHCR report, which was released Monday.
The report offers three main reasons for the increase in the rate of forced displacements:
Long-term situations, such as the conflict in Afghanistan that cause large refugee outflows, are lasting longer; "dramatic new or reignited situations" such as the conflicts in Syria and South Sudan are occurring with a greater frequency; and "the rate at which solutions are being found for refugees and internally displaced people has been on a falling trend since the end of the Cold War."
Syria has the highest number of externally displaced people, with 4.9 million fleeing outside the country's borders. Afghanistan has 2.7 million and Somalia 1.1 million.
Just over 200,000 refugees returned home in 2015 -- most to Afghanistan, Somalia and the Central African Republic. By contrast, 107,100 were resettled in other countries -- with the U.S. taking in the highest number: 66,500.
Turkey is the top host of refugees
Turkey hosts 2.5 million externally displaced people. Followed by Pakistan (1.6 million), Lebanon (1.1 million), Iran (979,000) and Ethiopia (736,000). It is the second year in a row that Turkey hosted the largest number of refugees worldwide.